Copy of 24 Week Road to 70.3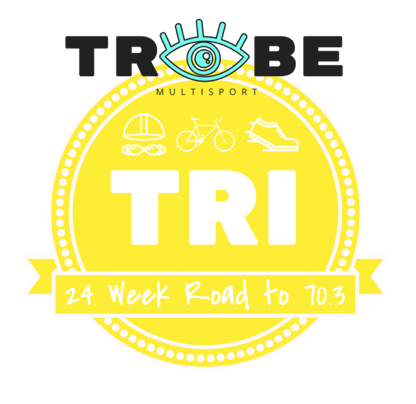 Copy of 24 Week Road to 70.3
sold out
This 24-week group training program is designed for beginner to intermediate triathletes who would like to complete a Half-Ironman distance triathlon. There are 9 group workouts per week that build a strong, capable foundation in all four disciplines — swim, bike, run, and transition. Each workout has a specific purpose: technique, skill, aerobic or speed development, etc.
If you are a more experienced triathlete going for a time goal or simply want more time in your weaker discipline, this can be discussed with coach Kim and she will adjust your sessions to enhance your preparation for your specific goal.
THE PREREQS: At a minimum, you need to be able to swim 500 meters or yards in a pool without touching the bottom or hanging on the edge. It doesn't have to be pretty, and you don't have to keep your face in the water the whole time. If you can't do that but are intent on this plan, enrolling in an adult swim class and/or private lessons is a great idea.
For the run and bike portions, being injury-free is necessary. Ideally, you have completed an Olympic distance triathlon and/or at least run a half-marathon before trying to take on the Half Ironman.
EQUIPMENT: We've compiled a full gear list here. *USATriathlon membership valid through at least September 31, 2018 is required. USAT 12-month adult membership is $50.
TRAINING BASICS: Most of the mandatory weekday workouts are 75-90 minutes. The weekend workouts range from 60 minutes to 5 hours, 15 minutes. The longer weekend workouts will get you ready, both mentally and physically, for a Half-Ironman distance triathlon, which typically takes most beginner triathletes seven to eight hours to complete.
A FEW MORE TIDBITS:
You might have the opportunity to race a sprint or Olympic distance along the way. The more experience you have in a race-setting, the better!
One day weekly is a total rest day.
There will be an "Epic Weekend" workout of all four disciplines to prepare you for race situations and transitions.
Includes your coach on race weekend and race day.
Includes SHE TRIBE Personalized Membership for the duration of your training program.
Includes a pretty cool shwag bag of awesome.
Includes the badass SHE TRIBE tri kit.
UPCOMING 70.3 TRAINING TRIBES:
March 25 - September 15 :: Outerbanks Triathlon - 70.3, Manteo NC